| | | |
| --- | --- | --- |
| | | |
| | | |
| | | |
| | | |
| | | |
| | | |
| | | |
| | | |
| | | |
| | | |
| | | |
| | | |
| | | |
| | | |
| | | |
| --- | --- | --- |
| | | |
Each year Hempstead County Sheriff James Singleton turns the Hempstead County Detention Center Parking Lot and "Sally Port" into family friendly trunk or treat environment where the kids in the county are invited to come and enjoy games, Hot Dogs, Chips, and bags of candy. The event has been well attended with the Sheriff's Staff serving 400 -500 kids and parents.
Helping with the Event The Hope High School Air Force Jr. ROTC members, Hope Fire Department, Hope Police Officers and Pafford EMS. Please come join us for the 2015 Halloween Community Trunk or Treat
Christmas Time at the Arkansas Sheriff's Youth Ranch in Amity
Sheriff Singleton and his Trusty Steed "FLICKA" visits Loving Arms Day Care
Hempstead County Politically Correct Watermelon Eating Contest Champion 2011, 2012,2013,2014
Good Luck Charm, Ms. Paislee Jordan Singleton
SHERIFF SINGLETON & FAMILY DONATE RODEO BANNER TO SPRING HILL FFA
Sheriff Singleton, Daughter Lacey Jo, and Wife Nancy Donate new Rodeo Banner to the Spring Hill FFA. To be displayed at the Annual Spring Hill FFA Student Rodeo.
May Family Donates Watermelons to Arkansas Sheriff's Youth Ranch
Ms. Martha May and family watermelon growers donate 75 watermelons to the Arkansas Sheriff's Youth Ranch in Batesville. Hempstead County Sheriff James Singleton and Daughter Lacey Jo took the melons to the ranch in Batesville.
For the last 17 years Ms. Martha May and her late husband Jackie have grown a special patch of watermelons for the Arkansas Razorback Football Team However due to a scheduling conflict the Razorbacks were unable to accept the melons.
This year the May's decided to donate the melons to the Arkansas Sheriff's Youth Ranch. The melons were loaded and taken to the Batesville campus for all the kids to enjoy and enjoy they did.
Thank you Ms. May and family
Unloading at the Ranch
Sheriff Singleton demonstrates how to open a melon Hempstead County Style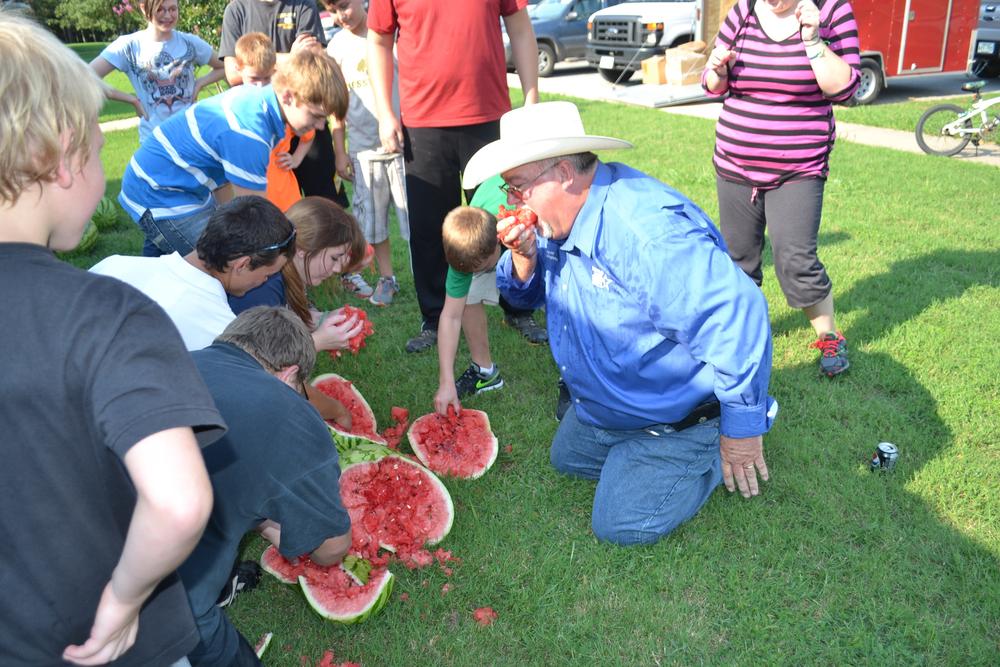 And that's why the Sheriff is a four time watermelon eating Champ.
The kids catch on fast
Great bunch of kids at the ASYR
Hempstead County Sheriff's Office & Rafter J Cowboy Church Team Up for The Rainbow of Challenges Annual Round Up
Clients from the Rainbow of Challenges teamed up with The Rafter J Cowboy Church and Hempstead County Sheriff's Office for the Annual Cowboy and Cowgirl round up. Clients competed in Roping, Pig Scramble, Stick Horse Barrel Racing, Goat Dressing, Horse Riding, Best Stick Horse, Best Dressed Cowboy and Cowgirl, and All Around Cowboy and Cowgirl.
The Round Up was held at the Rafter J Cowboy Church Arena on Highway 29 South of Hope. All clinets had a great old time.
Clients and Family Get Ready For the Round Up
Goat Dressing
Pig Scramble
Best Dressed Stick Horse Contest
Roping
Best Dressed Cowboy
Best Dressed Cowgirl
Church Members Provided Horses for Clients to Ride
Very First Time on A Horse, Blessing to be a part of the Round Up
Thanks Rafter J Cowboy Church For a Fun Time
And the Champ once again is Paislee's Pop, The Sheriff
2015 Politically Correct Watermelon Eating