Citizen Donates New Shotguns to HCSO
10/21/2016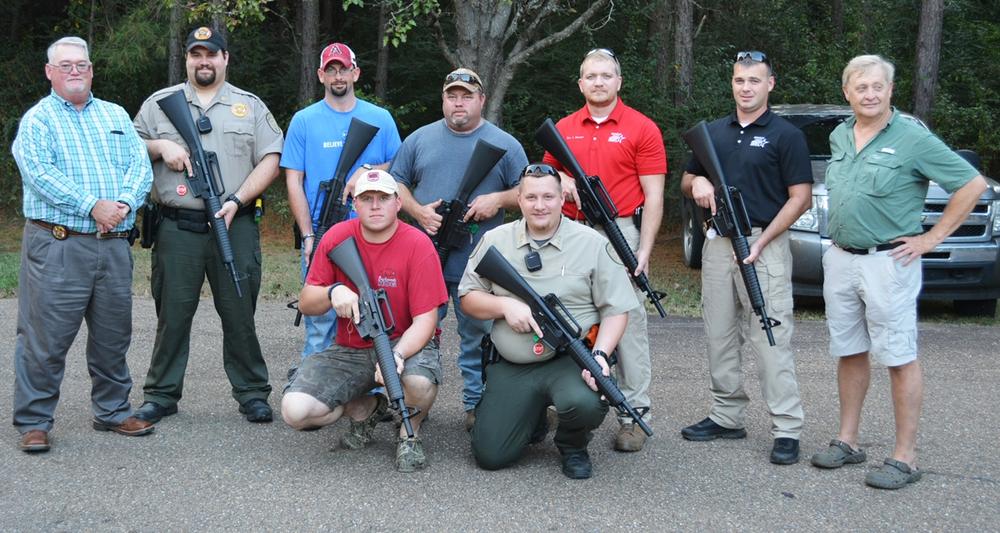 HOPE – Santa paid the Hempstead County Sheriff's Office (HCSO) an early visit Wednesday.
This year, the jolly old elf was assisted by Doug Mohler, who presented the full-time deputies of the HCSO with new MKA 1919 semi-automatic .12-guage shotguns. Each of the weapons came with two eight-round clips and a choke.
In spite of being grown men, the deputies were excited with their early Christmas presents, as the eyes of each and every one of them lit up when the first shotgun was removed from its box. And, grown or not, there's still a bit of child in everyone. It was no different for the deputies as some of them had to try out their new "toys" by firing off a few rounds. All agreed there was little recoil from such a lightweight weapon, as the shotguns weighed less than five pounds without a clip.
Mohler made the presentation after hosting a fish fry for the HCSO, another gift the deputies and Hempstead County Sheriff James Singleton enjoyed. When asked why he made such a generous donation, Mohler said he sad at how law enforcement has been treated in this country the last five years and wanted to show his appreciation. Though originally from Wabasha County, MN, Mohler owns a home in Hope.
As to this particular weapon, Mohler said he'd been asked to find out how much one would cost and called a friend who buys and sells weapons. He heard nothing from his friend for two weeks, when a call came letting him know the shotgun was in. He had business in Minnesota and made the trip, collecting the weapon when he arrived. "I thought it was cool," he said upon seeing it for the first time and took it to the HCSO to show Singleton when he returned.
Their conversation took a turn for the generous as Singleton agreed it would be nice if his deputies had such weapons. Mohler's response was to ask how many the department would need. Once he found out, he called his friend and ordered 15.
Singleton said he met Mohler several years ago and Mohler would bring his daughter to the rodeos at the cowboy church. They began visiting with one another and became friends. "I was surprised about the shotguns," Singleton said. "He came to the office wanting to show me something. I asked where something like that could be found and he asked how many deputies I had and offered to buy a shotgun for each of them."
These weapons, Singleton said, will complement the department's equipment and came at a good time as several of the older pump shotguns are nearing the end of their service lives and needed to be replaced. "We replace things as needed," he said. "There are things we'd love to have, things we need and things we have to have. We don't have the money to outfit everyone at once. This was a big surprise and a generous gesture on his part."
Singleton pointed out Mohler knows about the HCSO's financial situation and how tight the budget is. The biggest expense for the department, he continued, is trying to replace vehicles. The HCSO tries to purchase three new vehicles annually and cycle out the older models. Singleton said the HCSO has gone to utilizing four-door, four-wheel drive pickups as they're more durable than cars and can go places cars can't. In addition, he said, the trucks have more room than cars. However, the department does have a few cars, but these aren't used for patrol, but more to serve warrants.
Until the last year former HCSO Sheriff Jerry Crane was in office, Singleton said, deputies had to furnish their own weapons and this caused problems because the deputies carried different weapons and needed different ammunition. Now, though, all deputies carry .40-caliber Glocks and, if the need arises, can exchange clips.
Singleton is working on a grant to purchase rifle plates for the deputies. These plates would be in addition to the bullet-resistant vests they currently wear. He said these plates will stop .308 and 30-06 rounds. If the grant is approved, each deputy will get two plates, one for their chest and one for their backs. From there, the next step will be to find a way to purchase ballistic helmets for the department.
As to the donation, Singleton said, "This is above and beyond. I don't have the words."
An interesting note about the fish fry came when Mohler ordered the fish from the City Fish Market. When the owner learned the reason for the purchase, he donated the fish when Mohler went to pick them up.