Detention Officer Receives Purple Heart Award
12/08/2016
Hempstead County Sheriff's Office
Hempstead County Law Enforcement Center
312 South Washington
Hope, Arkansas 71801
870-777-7627
sheriff@hempsteadcountysheriff.org
Press Release
December 7, 2016
Sheriff James Singleton presents Detention Officer Jimmy Smith the Hempstead County Sheriff's "PURPLE HEART" Award for injuries he received in the line of duty.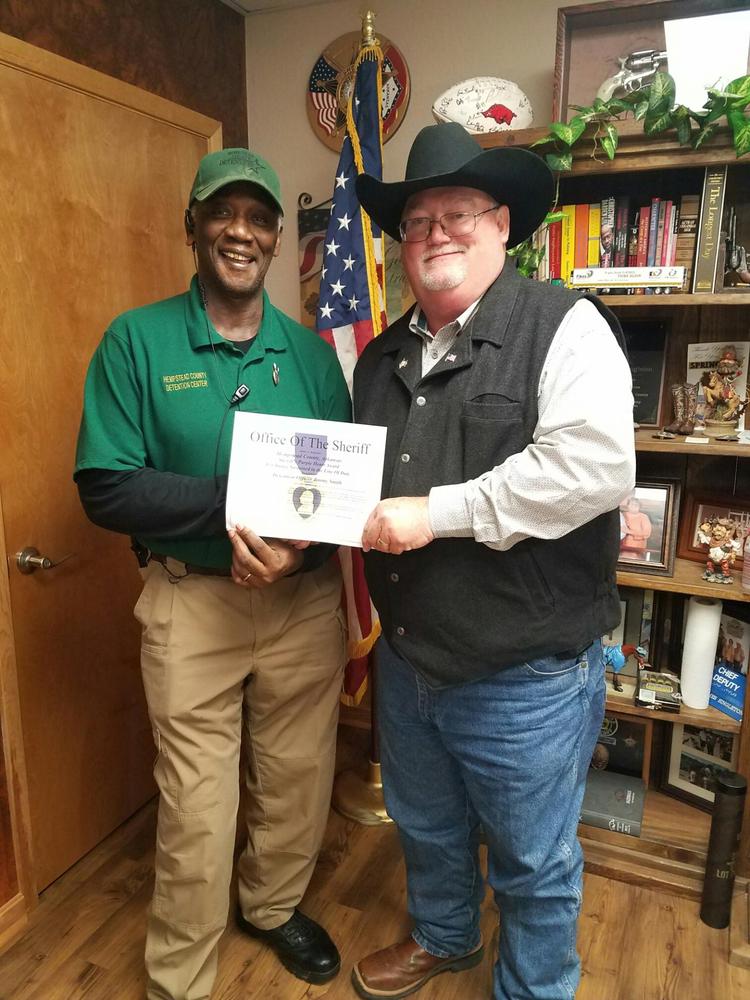 Citation
At approximately 1750 hours on March 8, 2016, Detention Officer Jimmy Smith was injured in an incident when an Inmate attacked him.
Detention Officer Smith and a 309 inmate were picking up trays after the evening meal as they made their rounds as they got to D-pod Smith noticed that the trays were not by the door but by the garbage can. Officer Smith walked in to D-pod, As an Inmate started towards him in a threating manner Officer Smith ordered the inmate to stand down or he would be pepper sprayed the inmate hit Officer Smith in the Jaw breaking it in several places.
Officer Smith sustained injuries to his jaw and was transported to Wadley Regional Medical Center at Hope and then later transferred by Pafford EMS to St. Vincent Hospital in Little Rock. Officer Smith suffered at least three fractures to his jaw and underwent surgery to repair his jaw.
Officer Jimmy Smith is awarded the Sheriff's Purple Heart for injuries sustained in the performance of his duties.
Given this 7t , Day of December 2017
James A. Singleton, Sheriff
"IN GOD WE TRUST"