H.C.S.O. Deputies Decorate Blue Line Tree
12/09/2016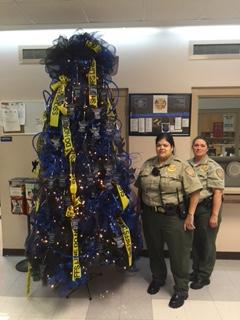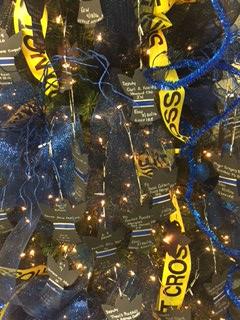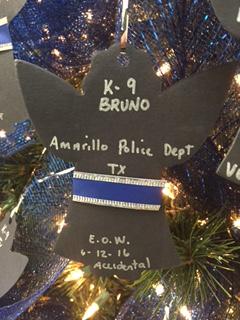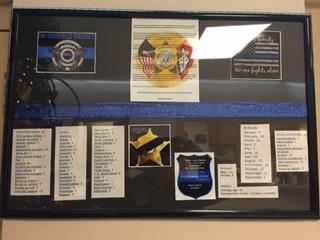 THE THIN BLUE LINE TREE
Deputies decorate a special Christmas tree at the Hempstead County Sheriff's Office, Deputy Rebeca Billings and Marla Barnhill began decorating a very Special tree last week for the Christmas Season.
The two Hempstead County Deputies approached Sheriff Singleton with the idea of decorating a tree to honor the Law Enforcement Officers Killed in the line of Duty in 2016. The two deputies began to gather names and Agencies of over 200 dedicated men, women and service animals from all over the United States who gave their lives in the Line of Duty in 2016.
To honor those law enforcement officers the deputies handmade silhouettes of Angels with the names of officers, their agencies, the date of their End of Watch, and how they gave their lives such as gunfire and accidents.
A thin piece of blue ribbon was placed across the Silhouettes to represent the Thin Blue Line that represent the very thin line that stands between chaos and sanity for those who choose to serve and protect our citizens.
The tree will stand in the lobby of the Hempstead County Law Enforcement Center until the New Year as a reminder that those who choose to protect our very way of life sometimes pay the ultimate price for our protection and the realization that there will be more angles added.
During this time of year when we celebrate the birth of our Lord Jesus Christ who also gave his life for all mankind please remember the Reason for the Season and Remember there are those who stand on the thin blue line everyday ready to serve and protect our community's. And remember the families who will be without their loved ones because they chose to serve and protect.
Please pray for our men and women in Law Enforcement.
May GOD Bless the Men and Women of Law Enforcement, and May GOD Bless America
Sheriff James Singleton