Deputy Receives Medal of Valor
07/10/2015
Deputy Receives Medal of Valor
Hempstead County Sheriff James Singleton awarded the Hempstead County Sheriff's Medal of Valor to Investigator Gary Don Dorman Friday July 10, 2015, for his actions On Thursday March 12, 2015.
At 3:30 P.M. on that day Hempstead County Dispatch received a 911call of a one vehicle accident near Pate Creek on Highway 67 East of Hope, Arkansas. The call as given out to emergency responders was that a SUV had ran off the road and was floating in Pate Creek with the driver still inside.
One of the first to arrive on scene was Hempstead County Sheriff's Investigator Gary Don Dorman. Investigator Dorman observed a ford explorer partially submerged with the male driver sitting in the passenger seat.
The current in Pate creek was unusually swift due to recent heavy rains, as emergency personnel began to arrive the vehicle began to be carried away and rapidly sink due to the swift current.
Investigator Dorman called out to the occupant to exit out the passenger window as the occupant exited, the sinking vehicle Investigator Dorman without regard for his own safety entered the swift water of Pate creek and reached the occupant and pulled him to safety just as the vehicle sank to bottom of the creek.
Investigator Dorman through his actions prevented what could have been a very tragic ending to a vehicle accident. In my opinion Investigator Dorman's Actions saved the life of the occupant.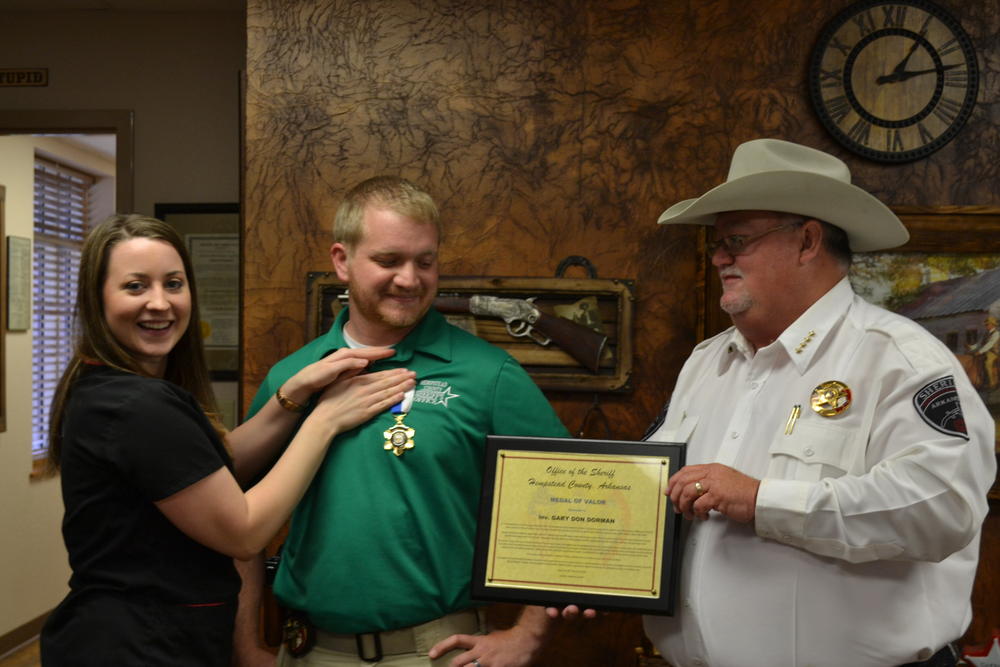 Kayla Dorman pins the Hempstead County Sheriff's Medal of Valor on her Husband Inv. Gary Don Dorman as Sheriff Singleton presents Dorman with the Medal.