Suspect Arrested after fleeing Texas State Troopers
08/03/2018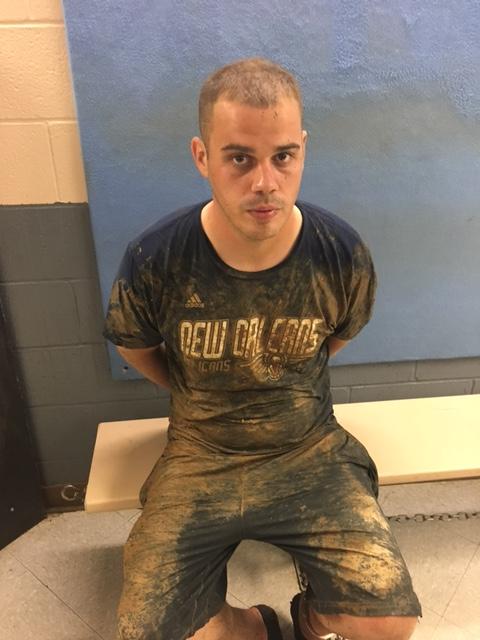 On Thursday, August 2, 2018 at approximately 1456 hours, Hempstead County Deputies received a call-in reference to Texas State Troopers was pursuing a vehicle that has been evading them and was about to enter Hempstead County, Arkansas.
Deputies were advised by dispatch that the pursuit was on Highway 67 W. and was just entering Hempstead County, in Fulton, Arkansas. and that the vehicle turned onto Highway 355 S, then onto Highway 195 and the last known location was on Hempstead County Road 49.
Deputy Reyn Brown was able to locate law enforcement officers with the State of Texas on Hempstead 49 where the fleeing vehicle stopped, but the driver fled on foot. Deputy Brown was advised by Texas State Troopers that the driver exited his vehicle, ran north through a wooded area, jumped into a pond and swam to the other side. Texas State Troopers observed the driver exit the other side of the pond and continue to flee on foot.
Once other deputies arrived, Investigator Justin Crane, Deputy Jimmy Bush, Game and Fish Officer Jeff Neal and Deputy Brown formed a search team and began searching the wooded area where the suspect exited the pond. Officers located foot prints that appeared to have crossed a creek. The print was not made with a shoe and appeared that the suspect who fled was barefoot.
While searching the area, Deputies were advised by Investigator McBride that is was confirmed the suspect who fled was Bin Burgees who had a felony warrant for his arrest with Hempstead County and the City of Hope, Arkansas.
Officers continued following the creek bank east. Officers continued searching for Bin by way of the creek bank. Officers were able to locate Bin hiding behind a large log, on the bank of the creek in the water. Officers were able to place Bin under arrest without incident. Officers walked Bin out of the wooded area.
Bin was transported to the HCDF by Deputy Orlando Dennis. Bin was turned over to the on-duty jail staff for booking process. He was charged with 3 counts of Fleeing, Residential Burglary, and careless and prohibited driving. He is awaiting a First Court Appearance on those charges and is awaiting pending charges in Texas.