Sheriff Singleton and Blevins School District work out agreement for a School Resource Officer on the Blevins Campus
02/13/2019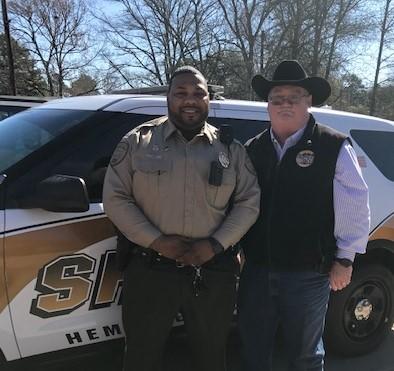 Deputy Orlando Dennis and Sheriff James Singleton
Sheriff Singleton and Blevins School District work out agreement for a School Resource Officer on the Blevins Campus.
In order to provide for the safety of our children, the Hempstead County Sheriff and the Blevins School District have entered a partnership to provide full time School a Resource Officer on the Blevins campus. The Blevins school board on Monday night approved funds for the remainder of the school year to pay for the deputy's salary.
Deputy Orlando Dennis has been assigned as a full-time School Resource Officer for the Blevins School District. Deputy Dennis began his duties on Wednesday February 13, 2019 and will be on campus until the last day of school on May 24th.
Sheriff Singleton and Blevins school officials will discuss a contract for the 2019-2020 school year at a later date. I am proud that we were able to work out details on funding for the rest of this school year and I look forward to discussing keeping the Resource Officer on Campus next year. funding has always been an Issue and I am glad that the School District was able to find the funds to have a deputy on campus fulltime said Sheriff Singleton.