Spring Hill Gets SRO
10/07/2019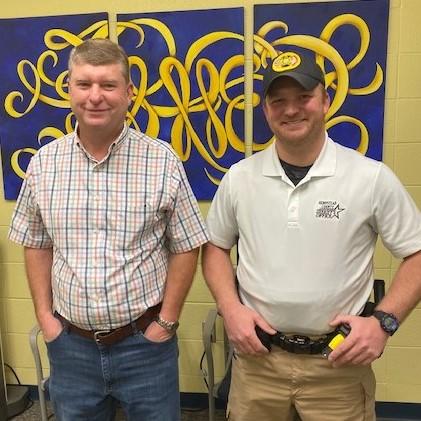 Spring Hill Elementary Principal Steve Bradshaw welcomes Deputy Matt Dunham to the Spring Hill campus.
Deputy Matthew Dunham is the new School Resource Officer for the Spring Hill School District Deputy Dunham began his new duties today by greeting the elementary students as they arrived at school. The Spring Hill School Board voted to help fund a school resource officer position at last months board meeting. The School District will fund the Deputy's salary through the school year and the Sheriff's Office will fund the remainder of the 3 or so months when school is out. Which will result in approximately 30,000.00 savings to the Sheriff's Office Salary Budget.
Deputy Dunham will be on the Elementary and High School Campus full time Monday thru Friday. Deputy Dunham will attend all Basketball and Football games as part of his duties.
With the Addition of Deputy Dunham to the Spring Hill School District, Deputy Josh Cingolani serves as School Resource officer in Blevins. We finally have School Resource Officers in Both County Schools to help protect our children and Teachers.
James A. Singleton, Sheriff