Sheriff Singleton Receives Letter from 5th Grader
10/08/2015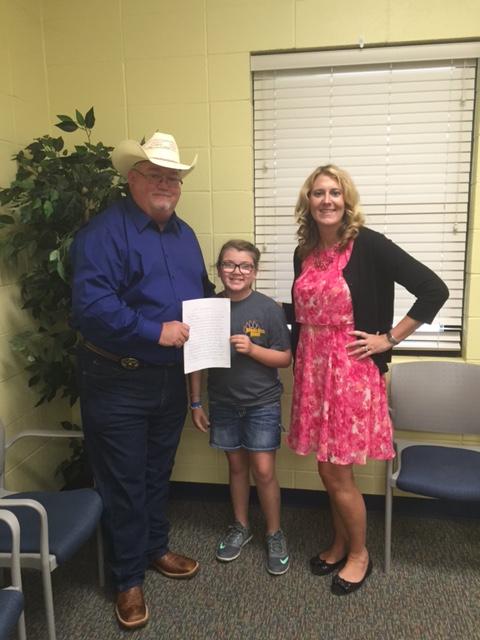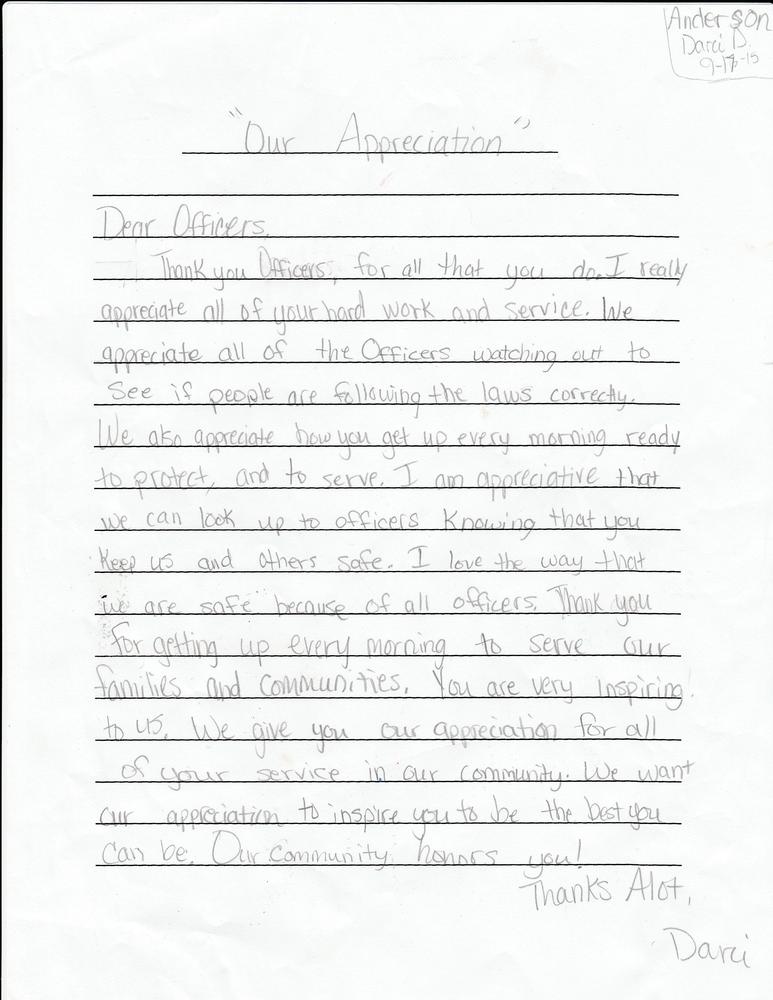 Hempstead County Sheriff James Singleton Receives a letter written by Spring Hill Fifth Grader Darci Durham showing her support of all law enforcement officers.
As a class project the students a Spring Hill elementary school were asked to write appreciation letters to local law enforcement officers. Darci won the contest with her letter. As the winner Darci got to pick which law enforcement officer she wanted to honor by giving her letter to, Darci Picked Sheriff James Singleton to present her letter to.
The Sheriff received a call from the principal Ms. Chandler Thursday morning telling him of Darci's letter and who she picked to give it to. I can honestly say that I was very humbled and honored" that Darci picked me to received her letter it will be framed and put in a prominent place in my office" Said Sheriff Singleton.
Sheriff Singleton went to Spring Hill Elementary about 1:30 Thursday afternoon where he got to meet Daci who hand delivered her letter to the sheriff. Sheriff Singleton presented Darci a Hempstead County Sheriff's Mini badge Coin to thank her for the letter.
Below is the letter Darci Durham wrote by hand;
"Our Appreciation"
Dear Officers,
Thank you officers, for all that you do. I really appreciate all of your hard work and service. We appreciate all of the officers watching out to see if people are following the laws correctly. We appreciate how you get up every morning ready to protect, and to serve. I am appreciative that we can look up to officers knowing that you keep us and others safe. I love the way that we are safe because of all officers. Thank you for getting up every morning to serve our families and communities. You are very inspiring to all of us. We give our appreciation for all of your service in our community. We want our appreciation to inspire you to be the best you can be. Our community honors you!
Thanks A lot,
Darci
Thank you Darci, on behalf of the Hempstead County Sheriff's Office and all men and Women who serve and protect our community.
Sheriff James A. Singleton