Sheriff Singleton Files for Re-Election
02/22/2022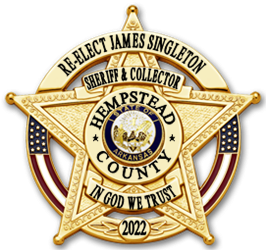 I would like to take this time to thank you for allowing me to serve the past ten years as Hempstead County Sheriff & Collector.
I have announced my intentions to seek a sixth term as your Sheriff and Collector in the upcoming 2022 election. And today I officially filed as a candidate for RE-Election as your Sheriff and Collector.
BY WAY OF THIS LETTER, I AM ASKING YOU FOR YOUR PRAYERS, VOTE AND SUPPORT IN THE UPCOMMING ELECTION.
I began my career in 1977 as a Correctional Officer serving at the Cummins Prison as a guard on horseback, in 1979 I graduated from the Arkansas Law Enforcement Training Academy in Camden and went to work as a Patrol Officer for Grady Police Department in Lincoln County. I then worked for several municipal police departments one Sheriff's Office (Ashley County) and the Arkansas Highway Police, before moving my family to Hope in 1991. I proudly served in the Arkansas National Guard from 1976 to 1994 as a Staff Sergeant for the crew served weapons platoon at Co C (-) 3/153 39th Infantry Brigade in McGehee, Arkansas
I have spent the past 43 years serving as a Law Enforcement Officer, 32 of that in Hempstead County. First at Hope Police Department for 10 years serving as a Patrol Officer, K-9 Officer, Patrol Sergeant and as Interim Chief of Police. I then began my career with the Hempstead County Sheriff's Office under Sheriff Jerry Crane as a Criminal Investigator and Chief Deputy before being elected in 2010 as Sheriff and Collector.
Since being elected I have completed the National Sheriff's Association Institute for first time Sheriff's, I was appointed to and still serve on the Arkansas Sheriff's Youth Ranch Board of Directors, I was appointed to the Arkansas Sheriff's Executive Board where I served in various roles on the board until becoming President of the Arkansas Sheriff's Executive Board in 2020 and still serve the board as first past President. In October of 2020 I was appointed by Arkansas Governor Asa Hutchinson to serve on the Arkansas Criminal Justice Institute Advisory Board.
My wife Nancy and I have been married for 38 years; Nancy is the Director of Radiology at Wadley Regional Medical Center at Hope. We have two grown children who both graduated from Hope High School. Casey in 2006, and Lacey Jo in 2013, Casey chose to join the Arkansas Army National Guard after graduation and was a member of the Hope Unit. Casey then joined The Hope Police Department as a Patrol Officer, Casey has served as the HPD K-9 Handler and is currently serving as Patrol Sergeant at HPD. Casey has two daughters Paislee age 7 and Lakyn age 5. Lacey Jo chose to attend College at Cossatot Community in Ashdown.
Lacey Jo is employed at Clinton Primary School where she works with kids with special needs as a paraprofessional. Our two Granddaughters Paislee age seven and Lakyn age 5 both attend Spring Hill elementary school. Paislee and Lakyn keep us busy with their activities, both love horses and compete in 4-H horse shows and High School Rodeos.
My wife, Daughter and I are members of the Rafter J Cowboy Church. My Daughter is the Arena director for all activities equine related in our church arena.
I have dedicated my entire adult life (43) years serving My Country, State, and Community. I once again ask for your Prayers, Support and Vote in the upcoming 2022 election.
May GOD Bless,
James A. Singleton