HCSO GEARING UP FOR 2022 OPERATION CHRISTMAS
09/01/2022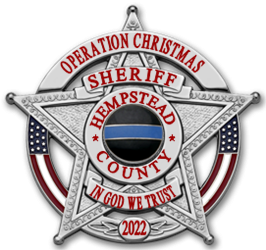 HCSO GEARING UP FOR 2022 OPERATION CHRISTMAS
September 1, 2022
Dear Citizens, Business and Community leaders of Hempstead County,
In 2017 the Hempstead County Sheriff's Office started a program to help young people and their families during Christmas. Thanks to you and others who took time to donate your hard-earned money, help with our shop with a Deputy program, wrap presents, and provide snacks for the kids while shopping it has been a tremendous success.
I want to thank you for your support over the past years, Last year's Shop with A Deputy was a huge success, we were able to take 196 Kids from Hempstead County shopping and provided them with a nice Christmas.
As business leaders, I realize that you receive requests for donations for various projects throughout the year. And I realize with the economy and high fuel prices that you may not can contribute this year. However, if you can we will certainly be grateful.
We are starting to get ramped up for the 2022 Operation Christmas program and would like to have your help with this endeavor. We are running a little behind this year and are not going to be able to have as many fundraisers as we did last year. We are partnering with several Fire Departments throughout the County. Our goal in 2022 is to reach as many children in Hempstead County as we can and help them have a Christmas they will remember.
Our plan is to ask for your help in this endeavor, what we need from you is your support in purchasing an ad for our new desk planner for 2023. We are partnering with the Southwest Teachers Co-Op to produce our Calendar/Desk Planner, so that we can keep more of the profits and use them to fund our "OPERATION CHRISTMAS" program.
The funds from the sale of the planners will go to purchase Christmas presents for kids and families who are just needing a little help during Christmas. We will also solicit names from Teachers, and other individuals who may know of a child in need.
We will also incorporate a SHOP WITH A DEPUTY event where our deputies depending upon funds will take children shopping for Christmas. Our local Wal-Mart in Hope has helped us obtain a Wal-Mart Community Grant of $4,000.00 to be used and is a great host for this event, providing Milk, Orange Juice, Christmas cookies and donuts while the kids, shop with our deputies, Police officers, EMS, First Responders and Fire personnel.
If anyone would like to help this year or know of a child in need please contact Deputy Rebecca Billings, Deputy Marla Gullion or Me. at the Sheriff's Office.
Individuals may also contribute if you would like to help, please make checks out to; OPERATION CHRISTMAS and mail them to Hempstead County Sheriff's Office at 312 South Washington, Hope, Arkansas 71801.
Deputy Rebeca Medlen Billings or Deputy Marla Gullion will be making the rounds to business who had an ad in last year's calendar and Day Planner. Please Help us provide Christmas for those kids in our county that are less fortunate.
Full Page $400.00
½ Page $250.00
¼ Page $200.00
½ of ¼ Page $150.00
Business Card $100.00
Thank you for your time, GOD BLESS,
James A. Singleton, Sheriff